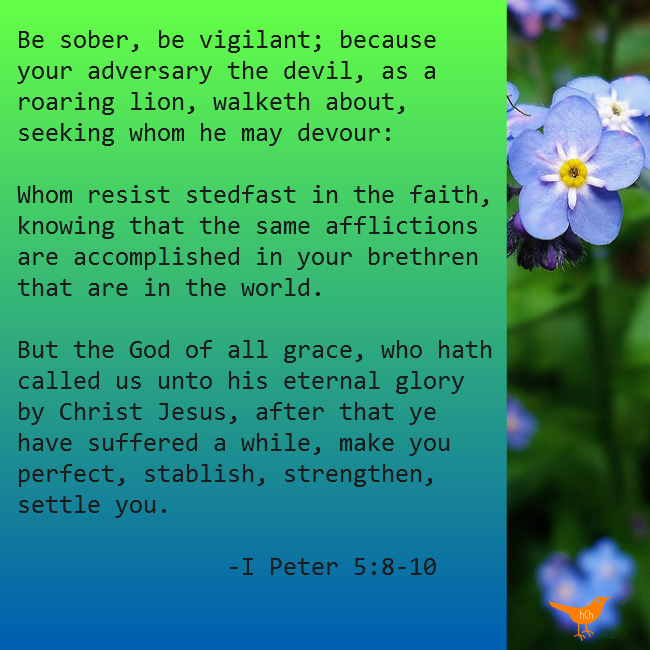 In the busyness of life, we need to remember to stay watchful of attacks from Satan.  He constantly walks around looking for someone to devour.  Sometimes we fall prey to his antics; he's a master at deceit. We might find ourselves getting angry and blaming others for our problems, when in reality there's a REAL spiritual battle going on with Satan and his demons.
Satan wants to destroy your home, your marriage, your testimony…and most of all your faith!
Looking back to the Garden of Eden, we can learn that Satan often mixes just a little bit of truth in with his lies so that we will be easily deceived.  It's important to know the Truth from God's Word to avoid being deceived.  We should always be wearing the Amour of God to be ready to confront these attacks from the Devil. (Ephesians 6:11-18)
I Peter 5:9 reminds us to resist the Devil by staying "steadfast in the faith".  The battles of war are not won gracefully.  It takes boldness, courage and much endurance…and of course, being prepared with the right weapons.
Our sufferings and trials here on earth are temporary.  Yes, they do feel long and gruesome at times, but the God of all grace wants to bring  you through these sufferings to make you compete by strengthening your faith.
We do not become better Christians simply going to church and singing hymns and listening to the preaching of God's Word once a week at church.  It's the daily walk and practicing of our faith through trials that help us to grow into mature Christians.
When you find yourself facing attacks from Satan do these things:
Read MORE of God's Word.  (Out loud as well!) Also, quote God's Word… memorizing Scripture helps with the battle so that we can pull out God's Word (our sword) in the moment of need to resist the Devil.
Pray.  Ask your friends to pray.  Pray together with your family.  Each time you feel overwhelmed, stop to pray!
Play Christian music that glorifies our Heavenly Father.  Play songs that strengthen your faith and trust in the Lord Jesus.
Praise God.  Keep praising Him all through the day.  Let Satan know your faith is still in God above.
Sing songs of praise yourself.  (It's good to listen to Christian music, but let songs of praise come from your own mouth.)  *Yesterday I kept singing "My God is so big, so strong and so mighty there's nothing my God cannot do" and also "My Lord knows the way through the wilderness, all I need to do is follow."  Today, I feel my burden lighter.  God is so good! 🙂
Keep doing what you know is right to do.  Keep going to church.  Keep serving the Lord!
Keep these verses in mind this week….
Be sober, be vigilant; because your adversary the devil, as a roaring lion, walketh about, seeking whom he may devour:
Whom resist stedfast in the faith, knowing that the same afflictions are accomplished in your brethren that are in the world.
 

But the God of all grace, who hath called us unto his eternal glory by Christ Jesus, after that ye have suffered a while, make you perfect, stablish, strengthen, settle you.
God bless you and your family,