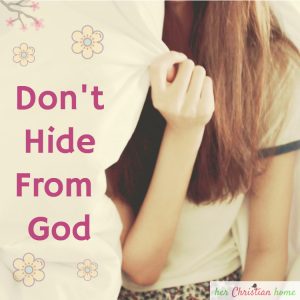 Last week something caught my attention in II Chronicles 12 that I wanted to share with you today.  In verse 13, we are informed that King Rehoboam was forty-one years old when he began to reign, and he reigned seventeen years in Jerusalem.
As a king, Rehoboam had an important job to do. His name would certainly be noted in history, but sadly, we read that he did evil.
"And he did evil, because he prepared not his heart to seek the LORD."  – II Chronicles 12:14 KJV
The word "BECAUSE" in verse 14 is teaching us a little mini lesson.
Rehoboam failed to prepare his heart to seek the Lord…the consequences lead him down the wrong path of doing evil.
When we purpose to seek the Lord, we are seeking good and right… to please Him!
We also have the privilege of gaininng MORE wisdom directly from God for our decisions. (If any of you lack wisdom, let him ask of God, that giveth to all men liberally, and upbraideth not; and it shall be given him. – James 1:5 KJV)
Don't hide away from God!
Isn't it the toddler, knowing he or she has done wrong, who hides from his parents?  How about the mischievous puppy dog? Dogs often hover in shame and avoid looking directly into the face of their master. 
Man also hides from God when he does wrong… just like Adam and Eve did in the very beginning.
Today, I encourage you to get into the continual activity of SEEKING the Lord God. STAY close to Him!
Even if you messed up already today or yesterday, just head back in the right direction >>>  To SEEK God!
Our Heavenly Father is merciful and forgiving.  And near Him is the place where you'll be encouraged to keep doing right. (For thou, Lord, art good, and ready to forgive; and plenteous in mercy unto all them that call upon thee. – Psalm 86:5 KJV)
Seek God's will for your life and for all your decisions.  Seek to know God's Word so that your faith can grow.   You can learn from what others did to receive the blessings of God and how others failed to receive the blessings of God.
God wants YOU and I to SEEK Him!
Here are ten Bible verses that should encourage you to SEEK the Lord God everyday:
But if from thence thou shalt seek the LORD thy God, thou shalt find him, if thou seek him with all thy heart and with all thy soul. – Deuteronomy 4:29 KJV
Glory ye in his holy name: let the heart of them rejoice that seek the LORD. – I Chronicles 16:10 KJV
Seek the LORD and his strength, seek his face continually.  – I Chronicles 16:11 KJV
The LORD looked down from heaven upon the children of men, to see if there were any that did understand, and seek God. – Psalm 14:2 KJV
When thou saidst, Seek ye my face; my heart said unto thee, Thy face, LORD, will I seek. – Psalm 27:8 KJV
Glory ye in his holy name: let the heart of them rejoice that seek the LORD. – Psalm 105:3 KJV
Seek the LORD, and his strength: seek his face evermore. – Psalm 105:4 KJV
Seek ye the LORD while he may be found, call ye upon him while he is near: – Isaiah 55:6 KJV
And I set my face unto the Lord God, to seek by prayer and supplications, with fasting, and sackcloth, and ashes: – Daniel 9:3 KJV
For thus saith the LORD unto the house of Israel, Seek ye me, and ye shall live: – Amos 5:4 KJV
God bless you and your family,
Rhonda White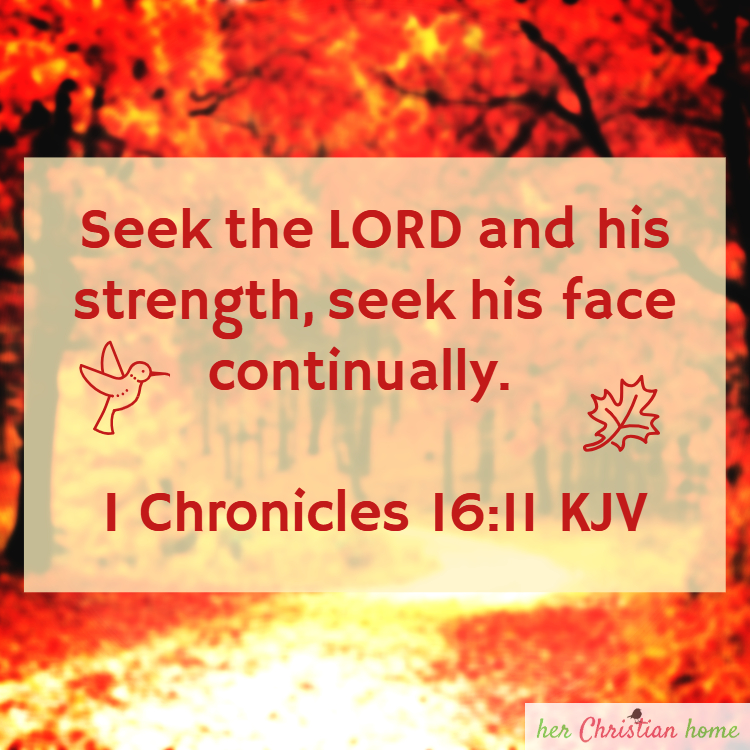 *Originally posted: September 19, 2018 / *Updated: August 12, 2020