I'm really enjoying reading through the book of Jeremiah. I'm taking my sweet time as I drink my morning coffee and slowly digesting the words from this book in the Old Testament.
In chapter 29, Jeremiah's letter is sent from Jerusalem to the remnants of the elders which were carried away captives, and to the priests, the prophets and all the people whom Nebuchadnezzar had carried away captive from Jerusalem to Babylon. (*See Jeremiah 29:1)
We get the pleasure of hearing the Lord God's instructing words to these captives!
He instructs them with these actions:
– Build houses and dwell in them.
– Plant gardens and eat the fruit from them.
– Take wives and have children.
– Find mates for their grown children so that they would increase in number and not be diminished.
– Seek the peace of the city where they were captives.
– Pray unto the Lord for that city.
– Let not their prophets and diviners deceive them.
(*See Jeremiah 29:4-9)
Is there not something we can learn from in their troublesome situation to apply for our own chaotic circumstances in our nation?
We can learn to live and thrive as people who are blessed by God. There's a quote that I've seen that seems to be fitting, "To plant a garden is to believe in tomorrow."
Also, let's pray for the peace of our nation. And let's certainly be careful about being deceived.
(By the way, I'm not implying to simply be passive in our own country's state of conflict. We should strongly hold and actively pursue in retaining the Christian values our nation was created upon!)
We definitely need more of God's wisdom and direction than ever before. If you're feeling depressed or scared (don't we all face this at times?), direct your eyes back upward to God. David learned to do this well.
I sought the LORD, and he heard me, and delivered me from all my fears.

Psalm 34:4 KJV
Now is such an important time to keep ourselves constantly immersed in the Word of God – DAILY!
God knows exactly what He's doing. We can ALWAYS trust Him!
However, the consequences of our own SIN (personal and as a nation) can bring about painful consequences — and yet we can still know that God is always MERCIFUL.
Psalms 103:8-10 says,
8) The LORD is merciful and gracious, slow to anger, and plenteous in mercy.
9) He will not always chide: neither will he keep his anger for ever.
10) He hath not dealt with us after our sins; nor rewarded us according to our iniquities.
After 70 years at Babylon, the Lord God said He would visit them and cause them to return home. Sometimes our relief is not exactly overnight, but we should ask and wait for God's help and mercy. (*See Jeremiah 29:10)
Today, I want to share with you these ENCOURAGING Words from God…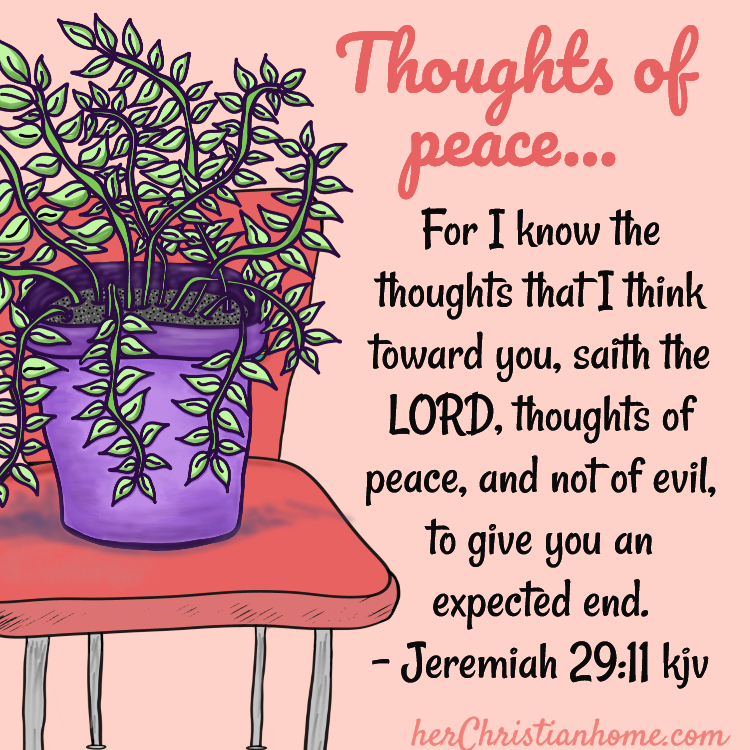 Jeremiah 29:11-13 KJV says:
11) For I know the thoughts that I think toward you, saith the LORD, thoughts of peace, and not of evil, to give you an expected end.
12) Then shall ye call upon me, and ye shall go and pray unto me, and I will hearken unto you.
13) And ye shall seek me, and find me, when ye shall search for me with all your heart.
(Those verses would be great to write down in your journal.)
God has thoughts of peace toward His children. That should bring you and I COMFORT and give us HOPE for our future.
Notice Jeremiah 29:13 says that we will find God "WHEN" we search for Him with all our heart. This is how we can build a personal relationship with our Heavenly Father – we put our WHOLE HEART into knowing His Words and speaking to Him on a daily basis.
Seek God with all your heart today! Take comfort in His peaceful, merciful thoughts toward you!
Keep walking in faith,
Rhonda White