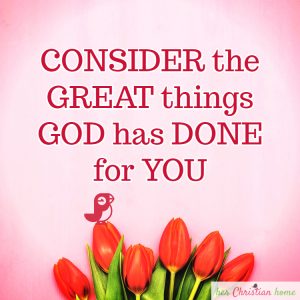 I have a GOOD reason to serve God every single day!  Not only did Jesus pay the price for my sins so that I could enjoy Heaven, but He's also done LOTS of GREAT things for me!  Even when I fail or sin, God is still yet mercifully GOOD!
Today, I'm sharing a short Bible study about when Samuel had to remind the Israelite people that God had done GREAT things for them and that they should serve the Lord with ALL their heart…
"Is it not wheat harvest to day? I will call unto the LORD, and he shall send thunder and rain; that ye may perceive and see that your wickedness is great, which ye have done in the sight of the LORD, in asking you a king."  I Samuel 12:17 KJV
Samuel let the Israelite people know that that their wickedness was GREAT. Referring to the dictionary, we see that the word GREAT means "of an extent, amount, or intensity considerably above the normal or average."
Although asking for a king like the other nations had may not seem too wicked, we need to look deeper into the heart of the Israelite people to realize God wanted to be their number one leader — their King.  They would have no need of a king if they would seek and follow God's leading and His Word. (What a missed opportunity!)
QUESTIONS:  Are we missing this same opportunity of following God's leadership by choosing to do things our OWN way? Are we seeking solutions in the way the world handles their problems, or are we truly seeking God's wisdom and leadership? Are we using biblical principles in our daily life?
In seeking a king, the hearts of the Israelite people we're secretly rebelling against God.  I Samuel 15:23 says that REBELLION is as the sin of witchcraft. I would say that's a GREAT wicked thing!
After the thunder and rain came, the people GREATLY feared the Lord and Samuel. (I Samuel 12:18 KJV) They humbled themselves as servants and asked Samuel to pray for them that they would not die. (I Samuel 12:19 KJV)
QUESTIONS: Do we take sin seriously? When we sin, do we fear God, or do we feel like we're going to get away with it? Do we humble ourselves and seek God's mercy? 
Even though the people had sinned, Samuel's advice was simple. Don't turn aside from following the Lord — and to serve Him with ALL their heart. (I Samuel 12:20 KJV)
QUESTIONS: Do we easily get distracted with the things of this world and stray from following the Lord? When we sin, do we get right back in there and turn to the Lord?  Are we FULLY committed to serving the Lord with ALL our heart? If you and I were facing prosecution in court for being Christians, would there be enough evidence against us that we were fully-committed Christians?
Samuel continues to let the Israelite people know the consequences for turning aside from serving the Lord. They would seek after vain things that could not profit, nor deliver. (I Samuel 12:21 KJV) And they would be consumed (done away with; destroyed). (I Samuel 12:25 KJV)
QUESTIONS: Do we consider the consequences of our sin? Are we seeking after vain, unprofitable things?
As GREAT as the sin of Israel was, God's GOODNESS was /is even GREATER!
There's so much to say of God's goodness and mercy that we can't possibly even comprehend it all. When we yield our lives to Him, we get to see and experience MORE of God's GREATNESS and GOODNESS!
God has already been working in YOUR life and mine! Let God be your leader — your King today!  Consider what GREAT things He has done for you already!
Samuel reminded the Israel people…
"Only fear the LORD, and serve him in truth with all your heart: for consider how great things he hath done for you."  (I Samuel 12:24 KJV)
FINAL QUESTION:  Are you fully committed to the Lord to serve Him with ALL your heart?
>> In the comments section below, please SHARE at least ONE GREAT thing GOD has done for YOU!!