Christians are so occupied with activities, socializing, computers, gadgets… We're so very sidetracked and distracted away from prayer and the quiet time we should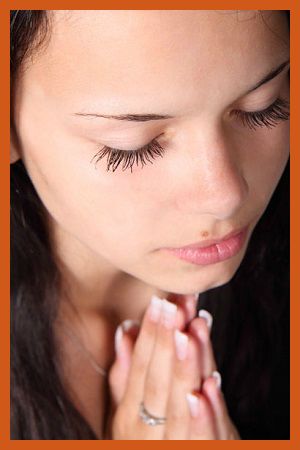 have with the Lord Jesus.
We're missing out on hearing His small, still voice trying to guide and direct us.  Our thoughts are not on Him as they should be, but instead, it's on our next meal or activity to do.
Prayer changes things… it changes lives, it changes circumstances, it heals broken hearts, it heals the sick, it calms the storms, it makes the impossible — possible!  There's power in prayer because we're speaking to the ONE who has the power to do anything!
I was made aware and stirred to take action on this challenge by a friend on Facebook, Dana Susan Beasley (AngelArts.biz).
The inspiration behind this challenge is brought about by Mark Batterson's ebook,
Draw the Circle: The 40 Day Prayer Challenge
"The goal of the forty-day prayer challenge isn't to get what you want by day 40.  In fact, the goal isn't to get what you want at all.  The goal is to figure out what God wants, what God wills.  Then you start circling it in prayer and don't stop until God answers."
[Side Note:] The book mentioned above by Mark Batterson is not KJV based, but I will be using only KJV Bible verses in all my devotions that I share on my blog here.  What I share in my 40 day prayer challenge will be my "own" thoughts that the Lord leads me to share, although I will also share what I read from the book at times. 
It's NOT necessary to buy the book for you to do the prayer challenge.  I only bought the book because I love reading stories about answered prayer and I'm just seeking to learn more about the topic right now.  I have enjoyed the great quotes about prayer, etc., but again, you're NOT required to buy the book to participate. 
You can start ANY time by just following through each day.  My posts are just provided for some motivation and to share my thoughts each day about prayer.
___________________________________________________________
This challenge in itself is Biblical… Jesus prayed and fasted 40 days.   The real purpose is to develop a real prayer life — that's consistent, becoming a life-long habit.
 Here's some quotes from Mark Batterson's book…
"The true purpose of prayer is to get into God's presence so He can outline His agenda for us."

"If you want God to do something new in you, you cannot keep doing the same old thing.  You have to do something different."

"When I pray at the beginning of the day, it's like my whole day becomes a prayer.  When I dial into God's frequency in the morning, I hear His still, small voice the rest of the day."

"When you pray to God regularly, irregular things happen on a regular basis.

"Who you know is more important than what you know.  This is certainly true for the children of God.  Who you know — the Heavenly Father — is far more important than what you know."

"If God can change the heart of Pharaoh, He can help you find favor with anybody and everybody."
Please join me in the 40 Day Prayer Challenge!
"Pray without ceasing."

I Thessalonians 5:17
 Day 1 
Start today.  Start learning a bit about prayer by looking up some Bible verses on prayer.  Many of our Bible heroes prayed 3 times a day.  I believe they prayed all through the day…but they also "set apart" a specific time each day to pray without being side-tracked with activity or other distractions.
Determine a specific time and place each day that you will pray.  Today I prayed first thing when I woke up.  All throughout the day, I'm making intentional efforts to pray for others.  I'm also praying for the Holy Spirit's leading about what He wants me to pray about.
TIP: It's also suggested that you keep a prayer journal so that you can write down your prayer requests and remember what you've been praying about — and to remember to praise God when He answers a prayer.
_______________________________________________________________
The 40 Day Prayer Challenge Journal:
 If you're up to this challenge, please post in the comments section below!  Make an open commitment to make your prayer life a regular habit…and a continual part of your everyday living and breathing.